Different in SEO between 2012- 2014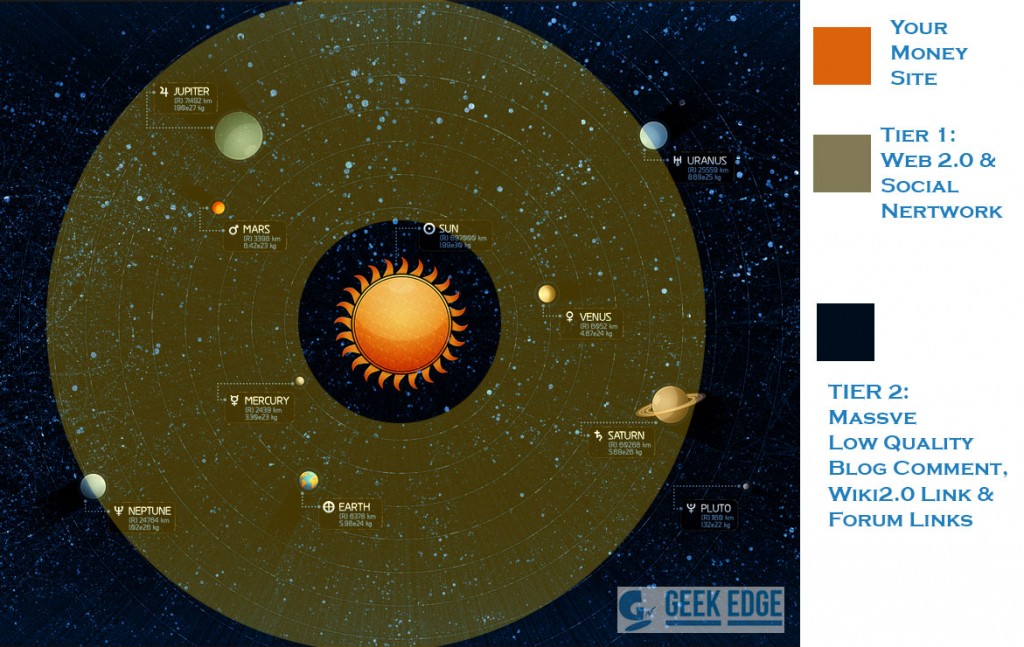 Hi, this is ever 1st post on my SEO blog website – Geek Edge. I like to talk about how much different in SEO from 2012- 2014.
There are seem lot of changes in between by "Google Slap Update", Ouch…But there is something core part still the same,
just that you need to take care on keyword diversity, Natural looks link patent & Website Branding.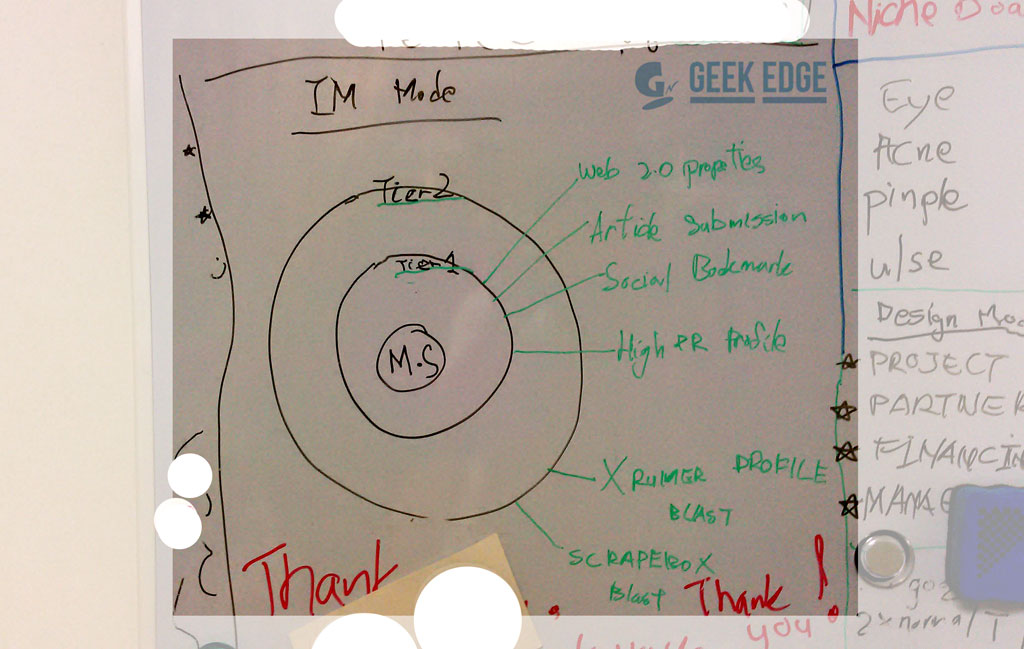 (A picture shows that what I write on my white board since 2011, most of it still works in 2014)
The graph I draw on white board is looks like a solar system   😛
Think of your Website (money site as Sun – the core of the solar system)
then your money site have some small planet surround by (the close to your money site one is Tier 1 & the far planet as Tier 2)
The Natural linking Patent
So the tier 1 is web2.0 property, Social site (facebook, Twitter, Google +, youtube…etc) that have link to your Money Site.
Tier 2 is massive links that link to your all Tier 1 sites randomly. Tier 2 are mostly low quality blog comment or Wiki site that with a link back to tier 1 sites.
Some people also create another Tier 3 for safety purpose, just in case Over Kill the links on Tier 1 or 2.
(Update: 25/ JULY /2015 : the seo expert suggest spread your tier up to 4 or 5  for better ranking results as Google can track down all links building tier up to tier 4 ) 
SEO 2014 Highlight
Don't Over Optimize the anchor text & keyword
1-2% only Keyword density for Main Keyword
Use Symptoms version of Keyword
LSI/ Long Tails Keywords
Branding your Money site & make it looks like an Authority Website in your Targeted Niche
Ok, that is it for now. Feel free to share or like this post if you think this is cool for you.
Be sure you also like Geek Edge Fans Page, so you will never miss any new post update in future 😀
Until next post & THANKS for reading.
Chris
Spread the Word, like or share this page, your friends will also love it and thanks for it.